704-0-Dicode_Architecture.jpg
12 January 2011. The European Union has started up a new project to bring together both human and machine reasoning capabilities to facilitate and augment collaboration and decision making in data-intensive and cognitively complex settings.
By exploiting advanced high-performance computing and large data processing methods and technologies, like cloud computing, MapReduce, Apache Hadoop or column databases, the new project will search, analyse and aggregate data existing in diverse, extremely large and rapidly evolving data sources.
The new project is dubbed Dicode and can be defined as a new cloud infrastructure for facilitating collaboration and decision making in data-intensive computing settings. The Universidad Politécnica de Madrid's Biomedical Informatics Group (GIB), based at the Facultad de Informática, is participating in the development of the project partnered by another seven teams from another three countries (Germany, United Kingdom and Greece).
As a project partner with a technological profile, the role of the GIB, led by Prof. Victor Maojo, is to integrate services, tools and project resources. In fact, the GIB is the partner leading the components integration tasks. Additionally, the GIB is actively collaborating on the development of new tools and services for the project platform. The GIB researchers participating in Dicode are Guillermo de la Calle Velasco, Miguel García Remesal, David Pérez del Rey and José Crespo del Arco.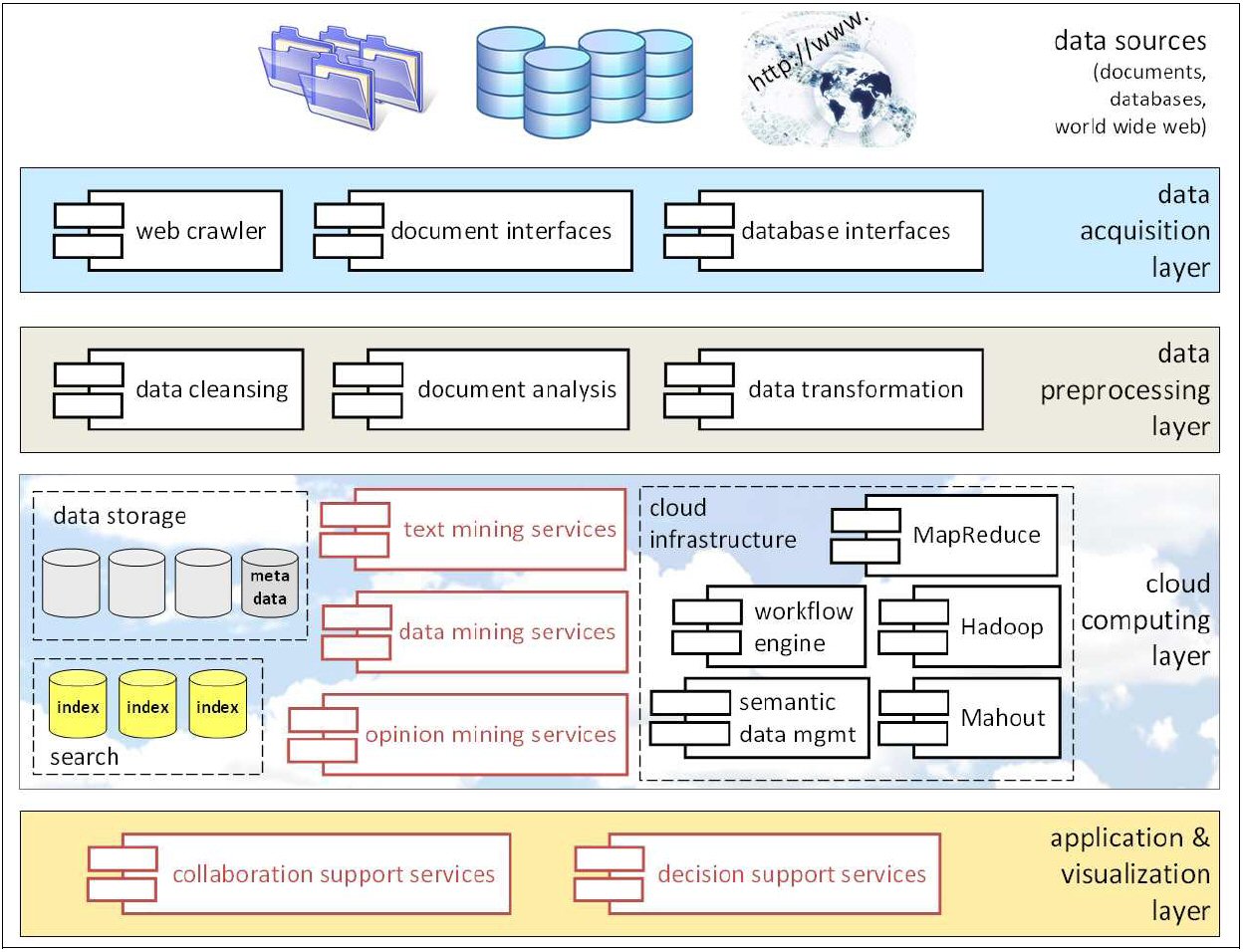 Cognitively complex settings
Collaboration and decision making settings are often associated with huge amounts of multiple data types, obtained from diverse sources, which have a low signal-to-noise ratio for addressing the problem at hand. In addition, these data may vary in terms of subjectivity and importance, ranging from individual opinions and estimations to broadly accepted practices and indisputable measurements and scientific results. Data types can be of diverse levels as far as human understanding and machine interpretation are concerned.
Nowadays, big volumes of data can be effortlessly added to a database. The problems start when we want to consider and exploit data accumulated over a few weeks or months and meaningfully analyse them for decision making. In more complex situations, we need to identify, understand and exploit data patterns. We need to aggregate big volumes of data from multiple sources, and then mine them for insights that would never emerge from manual inspection or analysis of any single data source.
The European Dicode project sets out to find a sound technological response to these needs of cognitively complex settings. Services to be developed and integrated in the context of the Dicode project will be released under an open source licence.
Building on current advancements, the solution foreseen in the Dicode project will bring together the reasoning capabilities of both the machine and human beings. It can be viewed as an innovative workbench incorporating and orchestrating a set of interoperable services (Figure 1) that reduce the data-intensiveness and complexity overload at critical decision points to a manageable level, thus pemitting stakeholders to be more productive and concentrate on creative and innovative activities.
Validation through use
The achievement of the Dicode project's goal will be validated through three use cases. These use cases were chosen to test the transferability of Dicode solutions in different collaboration and decision-making settings, associated with diverse types of data and data sources, thus covering the full range of the foreseen solution's features and functionalities.
These use cases are: Clinico-Genomic Research Assimilator; Trial of Rheumatoid Arthritis Treatment; Opinion Mining from Unstructured Web 2.0 data.
The consortium is coordinated by the Research Academic Computer Technology Institute (Greece), and the other consortium members are the University of Leeds (United Kingdom), Fraunhofer Institute for Intelligent Analysis and Information Systems (Germany), neofonie Gmbh (Germany), Image Analysis Ltd (United Kingdom), Biomedical Research Foundation - Academy of Athens (Greece), and Publicis Frankfurt GmbH (Germany).
This item on other websites
Communications of the ACM 19.01.2011
Scientific Computing 18.01.2011
AlphaGalileo (english) 18.01.2011
AlphaGalileo 18.01.2011
SINC 17.01.2011
AECC 17.01.2011
FADE 17.01.2011
Asturias Mundial 17.01.2011
Planeta Axxón 17.01.2011
Cooperación Faustiniana 17.01.2011
ACM TEchNews 12.01.2011